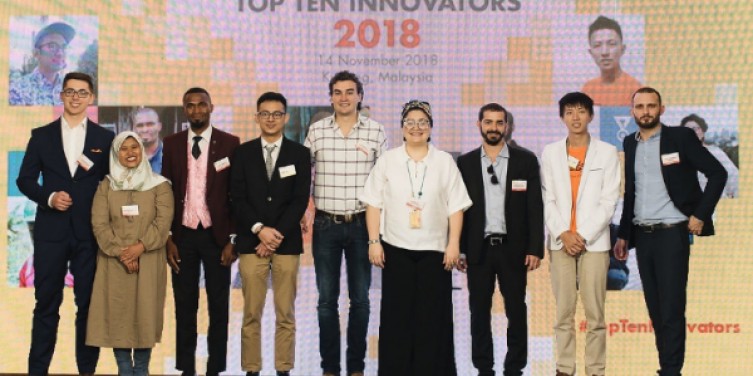 From humble beginnings as a regional initiative for young entrepreneurs in Strathclyde, Scotland, the Shell LiveWIRE programme has grown into an international brand in its own right, currently active in 18 countries with a history of support programmes in many, many more.
In 1994, after the UK wide programme had been delivered by PNE Group for a decade, the impact of the programme for both Shell and programme beneficiaries was recognised overseas, and a second LiveWIRE programme was launched 10,000 miles away in Australia – following LiveWIRE programmes were launched in Europe, the Middle East, Africa and beyond. PNE Group were named consultants to Shell LiveWIRE International, which was recognised as becoming a truly global operation. PNE's role included supporting expansion, training in-country delivery teams and developing new initiatives to support entrepreneurs.
Highlight: Going Global
As the programme has grown, so has its impact and its opportunities to make ambitious projects a reality, from celebrations of innovation to international research. There have been many exceptional highlights over the years, but here we include some of our recent favourites…
In 2015, the international Let's Go Trade programme enabled 12 participating businesses to undertake funded trade visits to explore business opportunities overseas. An evaluation of the programme revealed participants had benefited from US $1.184m of business benefits as a direct result of their trips, a $36 return on each $1 spent.
Shell LiveWIRE delivers US $1.18m international trade boost >
Three Shell LiveWIRE entrepreneurs from different countries featured in Shell's promotional music video 'Best Day of My Life', a campaign which went on to top the viral charts for two weeks. The video, featuring musicians Jennifer Hudson, Pixie Lott, Luan Santana, Yemi Alade and Tan WeiWei, showcases cleaner energy solutions from six innovative entrepreneurs, including alumni bio-bean, Insolar and Pavegen.
Shell launches smarter energy collaboration >
In 2017, the world's first people-powered football pitch was launched by Shell and R&B singer Akon in Akoka, Lagos. The project was part of Shell's #makethefuture, which puts bright energy ideas into action to bring benefits to local communities around the world while inspiring future entrepreneurs to open up access to energy. Managing Director of The Shell Petroleum Development Company of Nigeria Ltd commented, "We hope that this pitch will inspire more entrepreneurs and young people to help us make a smarter energy future." The project was powered by technology by Pavegen, whose founder, Laurence Kemball-Cook, first made contact with Shell as a LiveWIRE participant.
Shell LiveWIRE UK business behind Africa's first player powered football pitch >
The team's (at PNE) deep entrepreneurship expertise, combined with a truly professional approach and cultural sensitivity, has made a real difference not only for LiveWIRE but also for thousands of entrepreneurs around the globe - Marina d'Engelbronner-Kolff, PTE Local Content and Enterprise Development at Shell International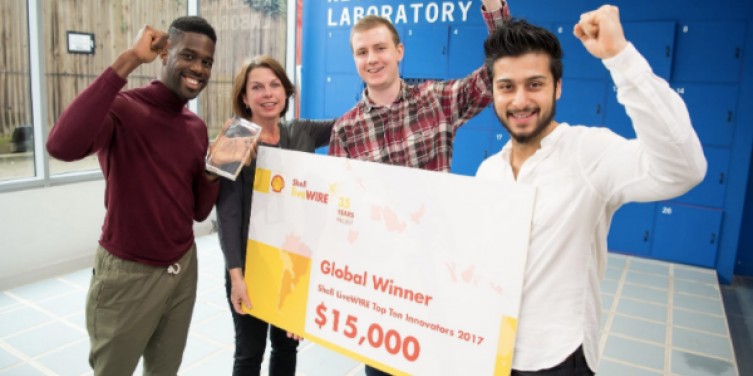 Highlight: Top Ten Innovators
Since 2015, Shell LiveWIRE International has delivered its own annual global innovation competition rewarding exceptional examples of innovation, open to alumni of the programme from anywhere in the world. The Awards create an annual cohort of inspiring young entrepreneurs, and winners are announced during Global Entrepreneurship Week (GEW), contributing to a worldwide celebration of entrepreneurship and innovation. To date, the Awards have distributed US $270K to 30 businesses, public votes to determine the shortlist have attracted 38,000 voters from over 130 countries and the initiative has received global press coverage. The 2017 Global Winner, Founder of Aceleron, Carlton Cummins, has now partnered with Shell Foundation to provide affordable energy storage solutions in East Africa.
Between 2015 and 2019, the Awards have:
Distributed US $270K to 30 entrepreneurs, who have become role models for innovation in their communities
Attracted 38,000 voters from over 130 countries in public votes to determine the shortlist
Received global press coverage
Been judged by 15 international business leaders
The 2015 Global Winner, Esther Wang, Founder of Joytingle, received recognition for her achievement in the parliamentary budget speech and was named on Forbes 30 under 30 Asia List.
The 2017 Global Winner, Founder of Aceleron, Carlton Cummins, has now partnered with Shell Foundation to provide affordable energy storage solutions in East Africa.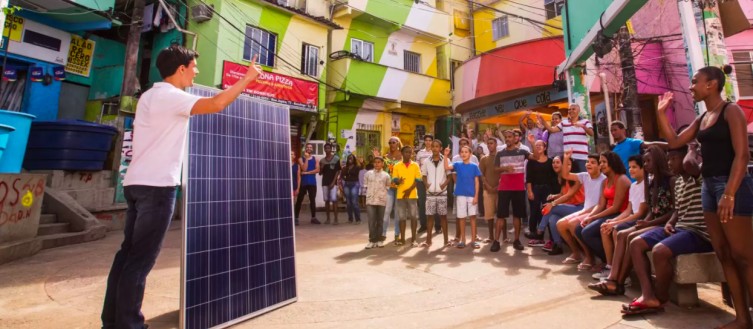 Highlight: Exceptional Entrepreneurs
The programme has played an important role within many inspiring entrepreneurial stories over the years, making an impact on individuals, innovations and communities around the world. Some of our highlights include:
Henrique Drumond, Brazil
"Shell offered Insolar the opportunity to deliver a major project that could benefit a whole community in Rio de Janeiro."
In Rio de Janeiro, LiveWIRE Henrique Drummond is supporting the transformation of the Santa Marta favela and the lives of its 6,000 residents, who face the social and financial barriers of unreliable and costly power supply. Henrique's business, Insolar, is strategically harnessing solar power to optimise economic development; starting with the local crèches to enable families to work longer hours.
How Insolar is bringing solar power to the masses >
Johari bin Brahim, Brunei
"Johari is an inspiration to other young entrepreneurs, especially those who may not be strong academically. He is proof that you don't need good grades to excel in life."
After participating in the Shell LiveWIRE programme, Johari grew his waste handling business Teamone Environmental Technologies, and his relationship with Shell, going on to win a US $24m contract as a Shell Brunei supplier and employing 345 people.
The hyperactive child who never gave up >
Arthur Kay, UK
"It's a great example of what can be done when we start to reimagine waste as an untapped resource."
Arthur Kay's business bio-bean is the first company in the world to recycle used coffee. Winning the Shell LiveWIRE UK Grand Ideas Award in 2013 was the beginning of a strong, collaborative relationship with Shell, and in 2017, they ran a project powering London buses with bio-bean coffee oil as a replacement for diesel.
Helping to power London's buses with coffee >
Nina Nuraniyah, Indonesia
"With the support of Shell LiveWIRE, Greenna has developed a proven business model and is an excellent example of how a circular economy approach delivers shared value."
Waste innovator and Top Ten Innovators finalist Nina is the Founder of Greena, a waste organisation which puts community involvement and empowerment at the heart of its approach. Greena is now a registered Shell supplier, working with the team responsible for fenceline community development, processing over 130 tons of plastic waste to date.
Shell Indonesia provides Greena future >
Thabitha Malinga, South Africa
"The programme is not just about me. It is also beneficial for the people in my community. In order to grow a strong team, I intend to pass on the business skills and customer experience knowledge that I gain from LiveWIRE to my employees."
South Africa faces significant youth employment challenges, with 38% of 15 to 34-year-olds experiencing unemployment. Self-employment offers an important alternative, and it was Thabitha's fourth venture, Thabie Mobile Spa, for which sought support from Shell LiveWIRE. Her business is now a Shell supplier, its services included in annual staff wellness days.
Supporting entrepreneurship in South Africa >
Learn more about the programme through the Shell LiveWIRE website or on the Shell global site.