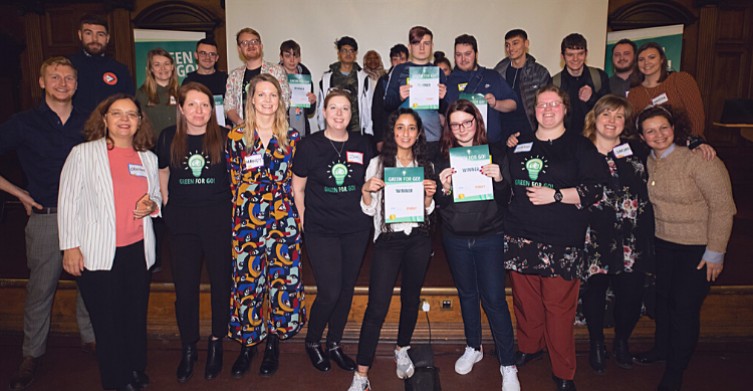 PNE are pleased to share we have been shortlisted for three National Enterprise Network Awards, in the categories:
Enterprise Organisation of the Year: For organisations establishing recognition and impact within their local communities.
Innovation in Education: Recognising work in educational settings to bring enterprise into their environment.
Enterprise Engagement Award: For organisations which have collaborated in their communities and commercially to bring greater enterprise benefits.
Our shortlisting in the Innovation in Education category is a joint nomination with FIRST, for our partnership programme Green For Go!, which brought together 172 young learners from North East colleges into a world of entrepreneurship and sustainable thinking.
The Enterprise Engagement Award celebrates the impact of the Engage and Excel programme, delivered in partnership with Women Empowering Women Network, which has supported 42 unemployed BME migrant and refugee women based in the Newcastle and South Tyneside to explore and enter self-employment.
Our shortlisting for Organisation of the Year recognises our leadership in sustainability and our strategic response to the pandemic, which is focused on an inclusive economic recovery.
Recognition on the Awards shortlist is testament to the hard work and commitment of every member of the team, who have provided expert and innovative support to businesses, communities and individuals over a year of unprecedented disruption.
Alex Till, Chairman of the Network commented: "The organisations featured on the 2020 Awards shortlist have all clearly demonstrated excellence in the delivery of enterprise support, or work taking place in educational settings which are focused on embedding entrepreneurial spirit and enterprise into this environment. Reading through all of the entries provided a great insight into some of the fantastic enterprise related initiatives and committed professionals working incredibly hard across the whole of England in these challenging times."
The winners of the National Enterprise Network Awards will be announced on 10th December, at the Annual Conference.