Meet Sustainable Creative Member Eden Chapman-Maurice, founder of Eden Sketchbook, a creative enterprise passionate about promoting sustainable and environmentally-friendly practices within the artistic community.
Drawing inspiration from her Maltese heritage, Eden immerses herself in the intricate mythology of Malta and Gozo, with a particular fascination for the legend of Sansuna, the giantess attributed to the construction of ancient temples. By illuminating Sansuna's untold narrative, she questions the limitations imposed on female characters within ancient myths and contemporary society. Her artistic expression is about celebrating feminine resilience and self-sufficiency, and it invites people to imagine a world where women create their destinies and redefine reality.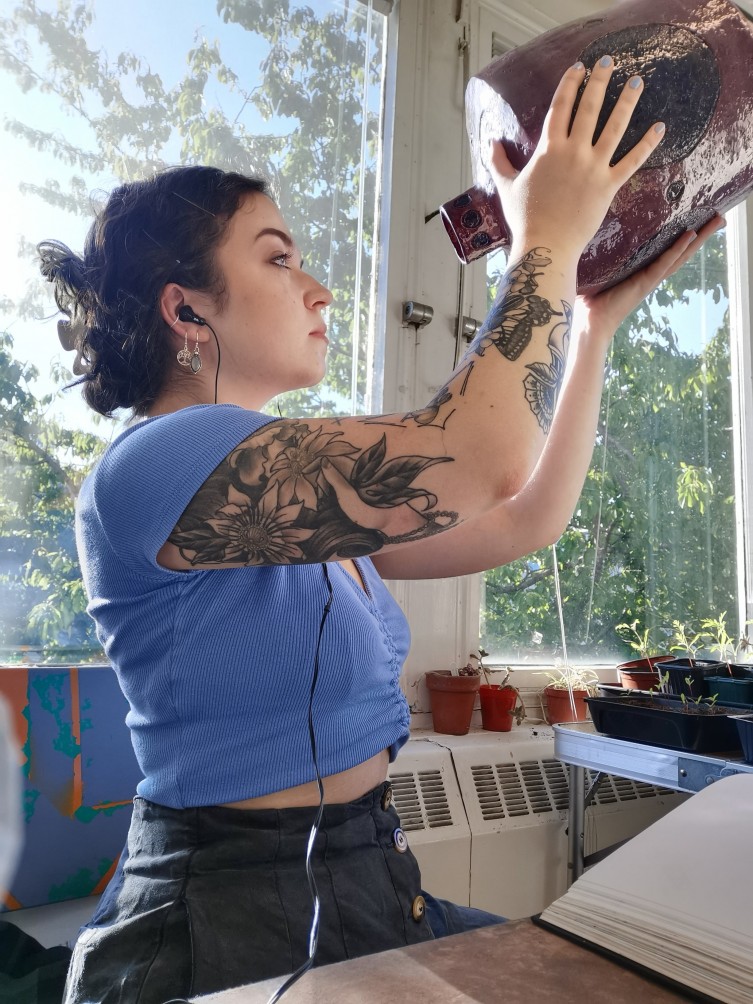 A yearning for an independent creative venture has been a driving force for Eden, seen throughout her business and art. Crafting artwork and pursuing new skills is a massive draw for Eden, leading to her expanding into coordinating creative workshops and engaging with communities that lack access to innovative artistic mediums.
I've always wanted to have my own creative business! I am an artistic person through and through, so I've always liked the freedom to pursue this passion by having my own business.
Like many early-stage founders, Eden has had to tackle several challenges. One is dyslexia, which makes tasks that many consider routine, like written assignments, organisation, and time management, a bit more complicated. However, through the support of the Sustainable Creative programme, the difficulties of running a business have gradually eased, and Eden has benefited from the supportive environment provided by the programme. At PNE, she found a nurturing community whose friendly faces and shared wisdom have eased her journey.
Over the next few months, Eden plans to strengthen her confidence and ability to lead workshops for diverse communities while streamlining the operations of her artistic venture. Through her growing self-assurance in her skills, she aspires for her creative aspirations to form a sustainable cornerstone of her life's journey.
I don't know if I am qualified to give advice because I'm still learning so much, but don't isolate yourself. Creative work achieves so much more when it's done as part of a community!
Although she's still in the process of discovery, one insight she willingly shares is the importance of avoiding self-isolation. She believes that creative endeavours flourish within the embrace of a community, where shared experiences and mutual support elevate the impact of artistic work.
Looking for help to start your own creative business? Get in touch with the PNE team at: enquiries@pne.org!
This project has been supported by the Creative Central Newcastle programme, funded by the North of Tyne Combined Authority and Newcastle City Council.