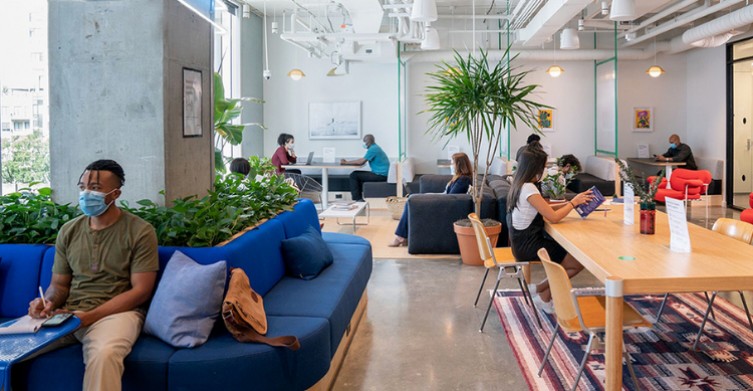 I don't know about you, but if like me you feel there is so much uncertainty in the world right now due to the COVID pandemic, there is some reassurance in knowing that you can get back to work providing you take the necessary steps and measures and make adjustments in the work environment.
With the latest guidance indicating that the government measures will be in place for the next six months, it suggests that COVID is likely to be around for some time yet, therefore we need to adjust to a new way of working and going about our daily lives. Over the last six months, I think there has been a belief that the adjustments have been temporary until we can find a vaccine (I know I have certainly thought this), but new guidance issued on 22nd September, coupled with the new laws and increasing fines introduced by Boris Johnson and his team suggest otherwise.
Returning to work in the midst of a pandemic can feel pretty challenging and be potentially costly. As an operations manager working for an SME in the centre of Newcastle I have felt firsthand the impact of the virus both as an individual, and manager. If we look at all of the data available to us, we did see a period whereby the spread of the virus reduced and appeared to be controlled.
As lockdown measures have eased and we took the first tentative steps to returning to a sense of normality, we have since seen the rate of spread steadily increase. As you will be aware the north-east of England is one of the worst affected areas in the country, hence why we were placed under extra lockdown measures in September. For further guidance on local restrictions please click here. With no suggestions as to when these measures are likely to be reduced it is critical we follow the guidance and each take responsibility for ensuring we operate in COVID secure environments.
So, where do you start?
We know the three simple actions we must all do to protect each other – wash hands, cover face, make space.
Those in roles not classified as 'key workers' have been encouraged to return to work albeit may have specific restrictions in place (further information can be found on the government website). Over recent weeks we have seen shops, gyms, bars and restaurants re-open.
If you are an office worker, there has been a U-turn in government guidance however it would appear to be straight forward. If you can work effectively from home, then you should work from home.
If you can not work from home then you are able to work from the office, providing your office is a COVID secure environment in line with the government guidance. This means making adjustments within the workplace to ensure safe working practices are adhered to. As an employer, you are responsible for ensuring you consult with your staff and ensure they are aware of what is expected of them. Consideration should also be given on how individuals travel to and from work, carer responsibilities, in addition to any anxieties people may have and those people at higher risk.
If staff are coming into work, it is important they know what to do if:
they feel unwell
someone they live with, or have been in close contact with, has tested positive for COVID-19
they have been told to isolate by a member of the NHS test and trace team
Ensure you are consistent in your approach and have policies and procedures in place to support these measures.
The Government have issued advice for a multitude of work environments each with specific instruction. It is important therefore that you adhere to the correct COVID secure guidance that relates to your place/area of work. We each have a duty of care to ensure we work in a safe environment, both to ourselves, each other and if applicable to those that access your services.
A risk assessment must be completed and regularly reviewed and updated as required. If you do not carry out a risk assessment the Health and Safety Executive or your local council can issue you with an enforcement notice. It is advisable to share the outcomes of the risk assessment and any measures put in place with your team.
For some businesses, it may feel unviable to return to work. Since March, the government have put in place a variety of measures to support businesses. To see what financial support you may be eligible to access please click here. Having recently reviewed the employment support package, the government has confirmed that the furlough scheme will come to an end on 31st October 2020 and will be replaced with the Job Support Scheme. The new scheme is designed to support viable jobs going forward, therefore if you are faced with potential redundancy situations it is important you follow HR legislation and seek advice if necessary to ensure you are compliant in your approach and actions.
As we continue to navigate through these unprecedented times, there is no doubt that some businesses will continue to thrive whilst others will potentially face difficult decisions over the coming months.
The pandemic world we now operate in is ever-changing therefore it is important we are able to respond to these changes in a timely and responsible manner. Ensure the guidance you are putting into practice is relevant to the part of the UK in which you operate, as there is some local variance.
One final suggestion is that reliable information is key therefore build yourself a reference library of key resources, including details of business support services, your local authority, along with the following:
This guest blog was written by Lisa Murphy, Operations Manager at PNE