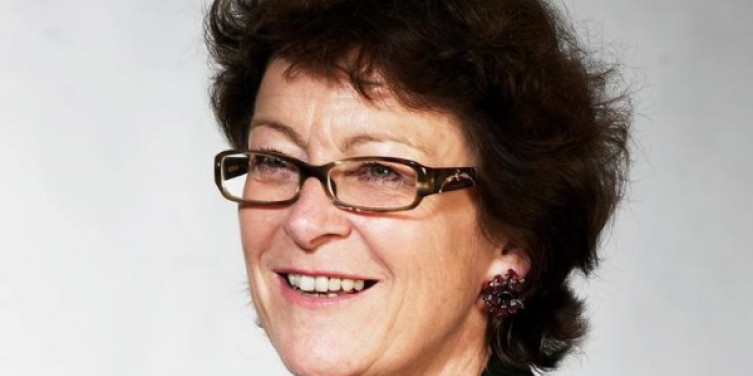 For the second instalment of our Repeat Business blog series, meet Caroline Theobald. Passionate about entrepreneurship, ethical business and gender equality, Caroline is a successful serial Founder, who boasts a CBE for her services to business in the North East.
I wanted to make as sure as I could that everyone, wherever they lived or whatever their ethnicity, could be the best they could be.
Can you tell us a little bit about your background and the businesses you have started?
Hello, my name is Caroline Theobald. My passion is connecting people for mutual advantage (particularly young people and businesses) so that they can be the best they can be. I'm the co-founder of FIRST Network (with Charlotte Windebank) – daughter of my previous company, Bridge Club Ltd; and a founding director of the North East Initiative on Business Ethics (NIBE). The first company I set up was with colleagues in London in the 1990s. It was called CAIS Ltd (Community Architecture Information Services) and was formed to raise awareness of the benefits of building for people, rather than for pure profit.
I established Bridge Club Ltd in 2000 (the dotcom era) to bridge the gap between early-stage start-up companies and the money, new markets and management they needed to grow. FIRST continues this work and provides entrepreneurial skills to (primarily) young people either setting up businesses or wanting to make the best of their employment journey.
NIBE was established in May 2013, as an independent regional resource with an aspiration to become a focal point for good business behaviour. Working across the twelve Local Authority areas covered by the North East and Tees Valley Local Enterprise Partnerships, our desire is to see the region recognised as a great place to do trustworthy, honest and transparent business.
Where does your entrepreneurial spirit come from?
I come from a family of entrepreneurs, so managed risk-taking was encouraged in all of us from an early stage. Three out of my four siblings are business owners (either full or part-time): retail and hospitality, travel and farming either here or overseas, and the fourth is married to a professional services entrepreneur. After my husband died suddenly (in 1996) my personal risk profile changed completely and I'm sure that's one of the reasons I set up Bridge Club Ltd and helped set up the Entrepreneurs Forum. I wanted to make as sure as I could that everyone, wherever they lived or whatever their ethnicity, could be the best they could be.
What inspired your first entrepreneurial venture and what lessons did you learn from it?
The inspiration for CAIS ltd was social justice/access to opportunity. My co-directors were architects, developers and social commentators. We wanted to raise awareness of the importance of the built environment in creating (or destroying) community cohesion and development.
What has been your biggest success?
Over the years my biggest success has been in the knowledge that I've helped people get to where they want to go. To help them develop their self-confidence, their skills and their networks so that they feel that they 'can' rather than that they 'can't'.
What has been your biggest failure?
My biggest failure is a combination of my lack of focus and an under-appreciation of my worth. It is difficult enough for social purpose-driven businesses to make money, but worth creation (in every sense) is the point of business. I was late coming to that realization and once you've established a reputation for 'just doing things that matter' it's difficult to re-set the dial and be paid for your skills. That is the single biggest lesson I'd share with an aspiring business owner. Believe in yourself. If you don't know one else will.
How has the current pandemic affected your businesses and how are you planning for the future?
We're remaining positive and doing a lot of planning! Charlotte is the managing director of FIRST Network (which I co-own and chair) and we're working closely together on a business growth plan that sees us pivot our business model from purely 'face-to-face' to a meld of on and off-line. That means taking advantage of the Government's Business Bounce Back Loan to strengthen our team and improve our offer and communications in entrepreneurial skills' development. We've also got plans to further embed and extend the Startup Awards North East (formerly the If We Can You Can Challenge).
At NIBE we're also looking to develop our on and offline offer and will be launching a Tees Valley Ethical Business Network in partnership with the Tees Valley Business Club and Teesside University Business School in June.