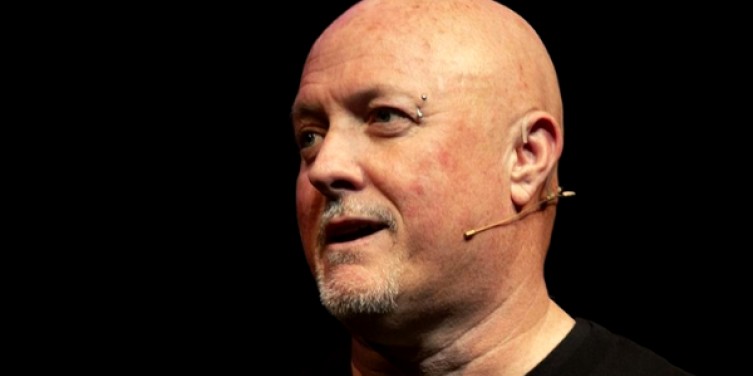 This week Repeat Business speaks to Shaun Allan, the prolific North East based tech entrepreneur – who embodies the philosophy of his most current venture, Vector76, that 'Anything is possible virtually'. Based in the innovation-led PROTO Emerging Technologies Centre, Vector76 provided the VR technology used at the pitch for the Great Exhibition of the North, helping NewcastleGatehead secure the opportunity of a generation. Shaun's journey meanders through start-ups, projects and side hustles, which move from the DIY cut and paste print designs of Punk to the immersive, seamless technology experiences he is known for today – all driven by a curiosity about what is at the cutting edge of culture and technology.
I don't feel I've had any major failures. Personally, I would feel not trying something and being prepared to fail is MUCH more of a failure. Even when things haven't worked out as planned, you dust yourself down and go again.
Can you tell us a little bit about your background and the businesses you have started?
I would say I'm first and foremost a designer with a huge passion for technology. The very first small business I started was designing and selling T-shirts of punk bands around the late 70s selling them to stallholders on Newcastle Quayside. It helped hone my early graphic design skills and self-taught me the basics of screen printing. It gave me a modest income and helped me to learn the basics of buying, selling and negotiating in business.
All during my career technology and design have gone hand in hand. I studied Graphic Design at Newcastle College in the early 80s, it was very early computing days and quickly branched out to have an interest in how computers like the Apple IIe along with a device called the Bitstick could be used to develop rudimentary wireframe animated images.
In 1983 I co-founded my first tech company a small 8-bit games firm called Ubik (named after the Phillip K Dick short story) as a small team we did quite well for a team converting titles for other bigger local games companies like Tynesoft while working on our own IP for games. It was very early days in videogames and negotiating character rights was all very new and a little bit wild west. We did ok for a few years but found we weren't really in a position to scale and compete to survive agains big outfits like Imagine and Ocean etc. kind of unfortunate but a very valuable learning curve none the less.
By the late 80's I setup design company called Absolute, we were based at the bottom of Dean Street working on mainly below the line printed stuff but again the company was centred around technology. We couldn't afford the very expensive early Mac's at the time so we used Commodore Amiga computers with Deluxe Paint (for bitmap work) and Professional Page for our DTP typesetting. Our clients included various art centres, Northern Stage and the record label Kitchenware Records. We designed album and single covers for the likes of Martin Stephenson, Hug and Bubonique (a Fatima Mansions side project)
By 1991 the link with Kitchenware had a profound effect on what I did next. Following a few beers in the Crown Pasada with the head honcho of Kitchenware (Keith Armstrong) I'd mentioned how the new dance music/clubbing scene seemed to take hold across the UK. To cut a long story short Keith suggested I set up a dance record label we agreed on the name Hardware which fitted nicely alongside the Kitchenware brand. So, the following Tuesday morning I woke up and had started a dance label, our mission was to sign up great new Northeast based talented DJs, bands and producers and take our own brand of hardcore dance/techno to the world (ALL on vinyl). We signed the awesome PSI Division, SR2, Twelve-Tone, Sub Bass and Neo Tecnik and then helped Kitchenware set up the Rezerection raves at the Mayfair in Newcastle. The label ran until around 95 along with the drum n' bass sister label Strategic Dance Initiative.
By 1994, I decided to revisit my interest in computer graphics and studied at Teesside Uni on their CAGTA Masters degree where I finally got my hands on a Silicon Graphics Workstation. SGI's were the absolute cutting edge of CGI at the time and Ioved designing environments and 3d objects on its flagship application Softimage. As part of the course, I was lucky enough to be invited to work at Eutechnyx in Gateshead for my placement, I was then offered a full-time role and worked on a series of triple AAA car racing games over the next 5 years or so before being offered a management role at the University of Sunderland helping to set up and run their web team.
It was while working at UoS that I took an interest in the virtual world of Second Life and learned how to build 3d scenes and environments. I was very quickly gripped by how creative a space it could be and how it could also be used for social events. Inspired by new technology – yet again – I decided to setup one of the UK's first virtual reality companies Vector 76 in 2007. We purchased our own Second Life island and promptly developed virtual NewcastleGateshead as a proof of concept on how effective and useful virtual cities could be. Our very first commercial client was South Shields Community School. They wanted a new way to engage pupils from two existing schools that were merging. We worked with the school and Ryder Architecture on this project in 2010, years before the term "Building Information Management" was coined. The virtual build was hugely successful not just as the engagement tool the school had envisaged but also helped in driving some very important real-world design decisions for the school.
The next big milestone for Vector76 was when the Oculus Rift appeared on KickStarter. I felt the Rift was very much the missing piece of the jigsaw for true VR. We, of course, invested in one immediately and started designing for this new world of proper immersive 3d spaces. Over the years we've worked for a number of local, national and international companies helping them get VR/AR/MR=XR applied in a range of ways to make a very real return on investment.
Where does your entrepreneurial spirit come from?
To be honest I'm not really sure, while my parents aren't business people they did always encourage me and my siblings to give things a go, have no fear and just do it. I know now that determination combined with creativity pretty much defines entrepreneurship.
What inspired your first entrepreneurial venture and what lessons did you learn from it?
My very first one (t-shirts mentioned above) was purely down to the PuNk ethic of JUST DO IT! I guess the design equivalent of learning the essential 3 chords for a song, I was always useless with guitars so I had to vent this creativity in some way.
What has been your biggest success?
Helping Newcastle Gateshead Initiative win the staging of The Great Exhibition of the North by using VR at the pitch event to the DCMS in Leeds was a very proud moment for a lad from the streets of Newcastle's West End.
What has been your biggest failure?
I don't feel I've had any major failures. Personally, I would feel not trying something and being prepared to fail is MUCH more of a failure. Even when things haven't worked out as planned, you dust yourself down and go again.
What is the biggest lesson you would share with aspiring business owners?
In speaking to many of my friends and colleagues in all sorts of business's, the absolute primary trait is to NEVER ever give up. In the UK we must encourage more young people to go for it and reach for their dreams. Don't be afraid to fail, it's how you learn we're here once, lets get it done.
How has the current pandemic affected your business and how are you planning for the future?
To be honest we're busier than ever. As you might expect, we have been working in virtual spaces for years and are now in a very unique position to help companies across all verticals leverage XR to help get their business's through this and help them realise that this "new normal" can actually mean working much smarter. Our plans for the future are more of the same really, always looking to apply emerging tech to drive things on, have fun and be creative.