Back to case studies
Strong Point Games: How one couple's lockdown idea is challenging the nation to find their "Strong Point"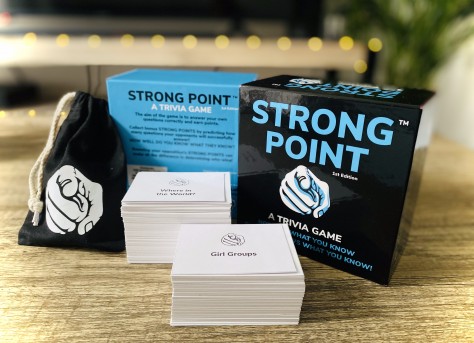 Whilst lockdown brought the UK to a standstill, budding entrepreneurs Gillian Hauxwell and Simon Evans took the first step in turning their concept for a thrilling new trivia game into a reality.
In a world where the "next big thing" changes hourly, one pastime has endured and continues to entertain and excite families across the nation. No, it's not the new iPhone (and it's certainly not a talking AI alarm clock speaker)… it's the humble board game!
Whether it's the thrill of working out "whodunnit" in Cluedo, being a millionaire for a moment in Monopoly, or ruining lifelong friendships with a +4 card in Uno, table-top games have brought people together for centuries. Recently, the longevity of the board game's appeal was once again emphasised as families and friends dusted down their game collections to stave off boredom and to provide light relief from the 2020 lockdowns.
But whilst the rest of us were rolling dice, shuffling cards and passing GO!, Gillian Hauxwell and Simon Evans were inspired to do something different and began to brainstorm a new trivia game.
"During the lockdown, like so many people, we connected with friends and family through Zoom quizzes, family games nights and playing board games together and this inspired us to start thinking of ideas for our own game"
Over the summer, the couple started writing their questions and produced homemade versions of the game for family and friends to enjoy. Positive feedback followed and in 2021, both Strong Point Games Ltd and their first game "STRONG POINT" was born.
STRONG POINT is a trivia game that has a unique slant on the typical quiz format. The premise is simple: a card with a random category is selected and the chosen player's goal is to answer 5 questions correctly. Their opponents will secretly predict how many they think they will answer correctly, predicting if it's their "strong point".
The pair knew their idea had potential but as Simon recalls, they knew challenges would lie ahead:
"Our main challenge was the fact that we were starting from a completely blank canvas and knowing how to approach starting a business. We also had to decide whether to be a partnership or a limited company and work out how to manufacture the game"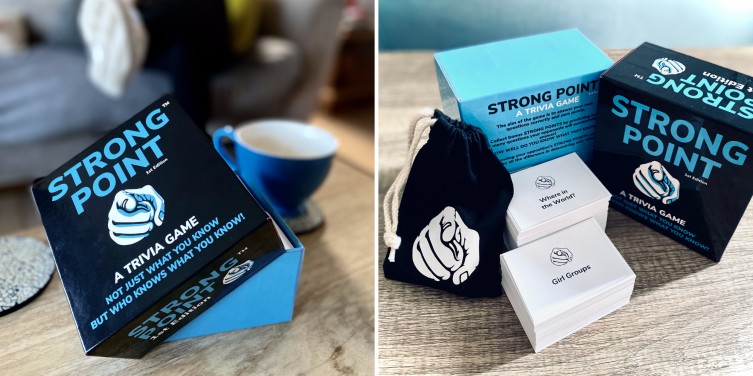 Gillian and Simon contacted PNE for support, liaising with Business Advisor Brenda Wilson, a pairing that Gillian thinks had a huge impact on Strong Point Games:
"We have had so much help and advice from PNE! Brenda has been amazing at guiding us through some of the decisions we have had to make and put us in touch with Transmit to help us with our Start-Up Loan. We still have regular calls with Brenda to seek assurances and guidance along our journey"
So what advice would the couple give those with an idea for a business? Simple - ask for advice!
"I think our main advice is that if you have an idea that is strong and you believe in, take the plunge. But also, don't be afraid to seek help and advice. As a new business, you aren't likely to have every answer and the help is there for you"
"STRONG POINT" is due to launch in November 2021. For more information and to reserve your game visit www.strongpointgame.co.uk .