Enterprise Central
Find out how you can secure your desk in our exciting new hotdesking space and creative zone, situated in the heart of Newcastle upon Tyne.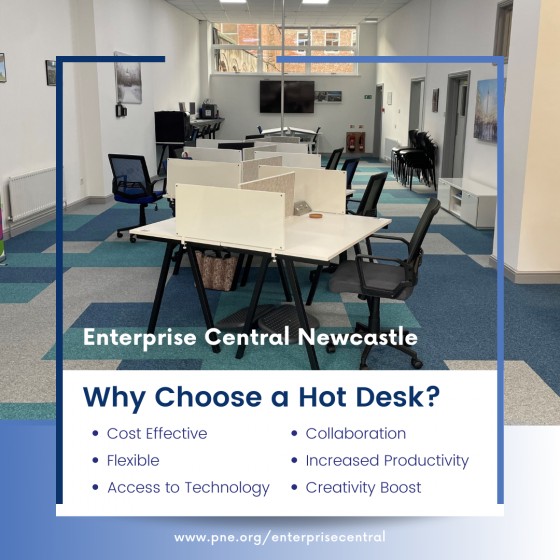 Enterprise Central
Situated in the heart of Newcastle, Enterprise Central is a new, innovative hotdesking space, designed to give you the tools you need to elevate your business to the next level.

Offering flexible booking options to suit your needs, industry-standard technology and access to the PNE eco-system, Enterprise Central is a perfect opportunity for businesses of all sizes, stages and sectors in a prime, city centre location.
Book Now!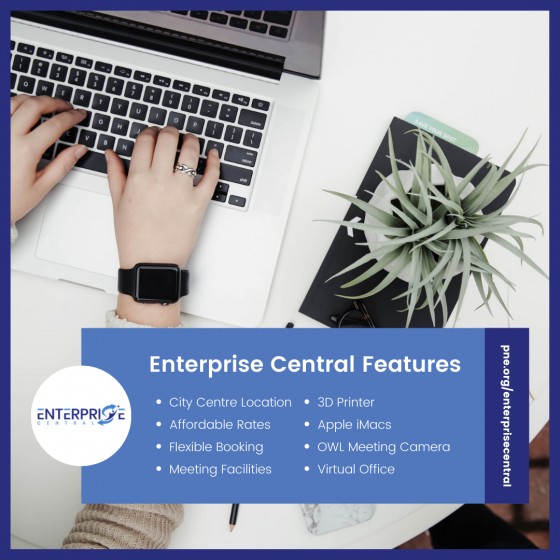 Designed for Business
Enterprise Central has been designed to encourage business success and help you achieve your goals.
Light and spacious, the space offers areas for solo entrepreneurs and larger teams, with a flexible layout that can be tailored to an organisation's needs. Enterprise Central also has dedicated meeting and conferencing facilities to book at short notice.
PNE have invested heavily in up-to-date technology to enhance your business. Hosting 3D printing facilities, a professional photo lightbox and OWL meeting cameras.
Hotdeskers also benefit from excellent public transport links including easy access to the A1 and A19, Central Station and the Tyne and Wear Metro service to Newcastle Airport.
Book Now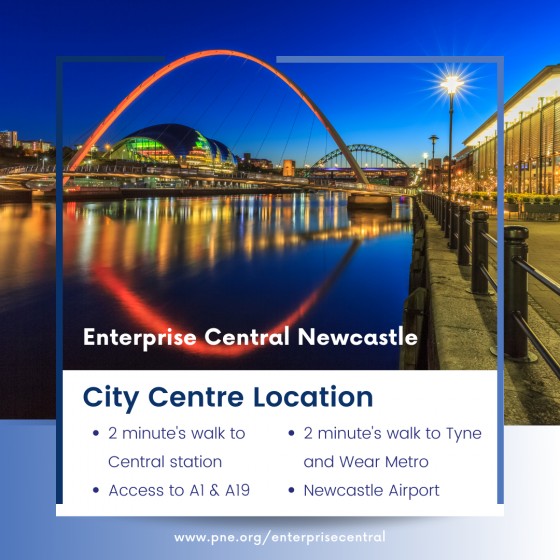 Why Choose Enterprise Central?
Affordable, flexible hotdesking space.
Solutions tailored to your business.
City centre location.
Excellent transport links.
Access to exciting new technologies, including 3D printing and podcasting.
Free refreshment facilities.
Virtual office opportunities.
Access to expert business advisors*
*Charges may apply.
Book Now!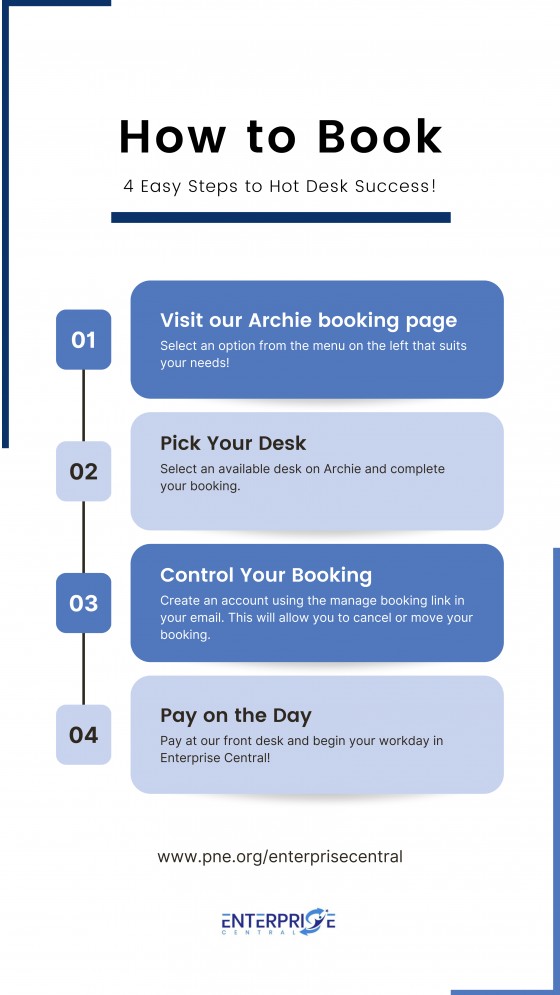 How to Book
Booking a desk at either Enterprise Central is easy. Simply click on any of the links below to be taken to our Archie booking system.
You can control your booking by creating an Archie account through the 'manage booking' link in your confirmation email. This will also give you access to our Enterprise Central network, where you can find out about future PNE events and connect with your fellow hot-deskers!
Need a desk? (1-4 days)
Looking to dive into our hotdesking space for a day or two? (1-4 day bookings)
Need a new base? (weekly, monthly and yearly plans)
Looking for somewhere to set up shop? View all of our plans in our Enterprise Central store by clicking all.
Need to meet? (meeting room bookings)
Need a perfect spot to meet with clients or with your team? Book our multi-purpose meeting room!
Need to create? (3D printer and podcasting)
Have a creative spark and need to use our equipment? Access our equipment including our 3D printer below:
*At this moment payments are taken at the front desk via contactless card. Other payment methods are coming soon!
Book Here!