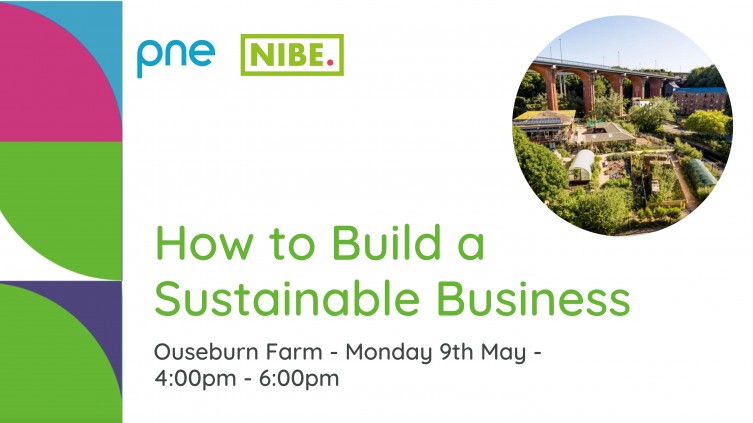 PNE partnered with NIBE to host an interactive Q&A with author and sustainability expert David Grayson CBE, emeritus professor at Cranfield, chair of the Institute of Business Ethics and co-founder of PNE
In recent years, sustainability has rocketed to the top of the political and business agenda, with high-profile conferences like COP26 and well-advertised initiatives from large corporations like Nike and Microsoft becoming a standard feature on our TV screens and in publications we read.
PNE partnered with NIBE and sustainability expert David Grayson to host the How to Build a Sustainable Business Event in the green heart of Newcastle, Ouseburn Farm. The event brought together business leaders and entrepreneurs to discuss how organisations can sustainably drive innovation sustainably, promote a culture with ethical business at its core and take steps to tackle environmental issues.
"I enjoyed the event and found the content incredibly useful. David showed me how to promote sustainability in my business and has given me some great ideas that I can take forward" Gillian Hauxwell, Strong Point Games.
Drawing from his new book, The Sustainable Business Handbook, David showcased a practical how-to guide on sustainable business, providing the audience with practical tools and tips whilst challenging them to think about how their organisation can make a difference. In his presentation,
David also highlighted how businesses like Primark, portrayed as unsustainable in mainstream media are now incorporating sustainability initiatives into their plans. He also made the point that sustainable innovation and ethical culture are not just the province of big business. All businesses, regardless of size and stage, should be encouraged to do more to embrace the concept of the triple bottom line.
"David Irwin and I set up PNE back in 1980 to develop new thinking and practice in job-creation and enterprise promotion. I am so pleased that PNE is continuing to innovate and promote new thinking about sustainability and how sustainable businesses are the future – for the North east and generally." David Grayson
After the talk, NIBE Director Caroline Theobald CBE chaired an interactive Q&A in which the crowd had a further chance to ask questions. The audience, a mixture of established businesses, entrepreneurs and early-stage start-ups, frequently asked questions, raised some excellent topics, shared ideas and discussed their own experiences and challenges. As time ran out, these conversations continued in the networking session that was still going strong until Ouseburn Farm closed for the day and the event ended.
"The event was great and showcased how even smaller businesses can be sustainable. It has definitely given me a new perspective on sustainability. I will definitely pass on what I have learned today to the businesses that we support! " Jenny Westgate, University of Sunderland.
Overall, the event was a brilliant success and made a lasting impact on all those who attended. Thank you to David for providing a brilliant insight into how businesses can incorporate and promote a sustainable agenda in their enterprises. Another big thank you to Caroline for hosting the Q&A and partnering with us to host the event.
Please keep a lookout for further updates and interviews from the event!
The Sustainable Business Handbook by David Grayson, Chris Coulter and Mark Lee is published by Kogan Page: https://www.koganpage.com/product/the-sustainable-business-handbook-9781398604049
There is a 20% discount for PNE / NIBE supporters on the Kogan Page website – just add the promotion code: FBM20