Back to case studies
Sarah Grant: "PNE's support as I built my business was a key factor in our success"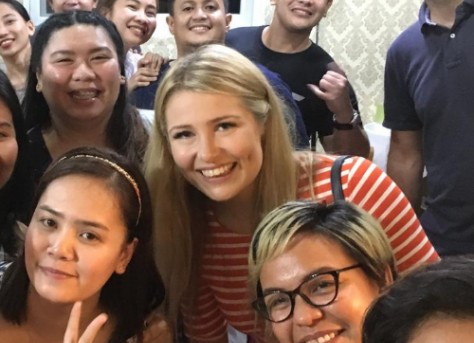 PNE interaction:
Sarah accessed our support to grow her healthcare recruitment company, receiving 1-2-1 advice, receiving funding through our Sustainable Start-up Award and participating in the If We Can You Can Awards.
It started with a conversation. As Sarah Grant's friend opened up about the challenges her employer the NHS was facing, Sarah had was reflecting on the situation – there had to be a better way of doing things.
I feel really lucky to have had the benefit of PNE's resources and support as I built my business. I think it's been a key factor in our success.
NHS teams were taking expensive international trips to recruit medical staff overseas, who then often couldn't progress in their jobs because they lacked the required proficiency in English.
Fast forward four years and My Healthcare Recruit, launched by Sarah in 2017, is saving costs, carbon and careers. The company, the only of its kind, employs a team of five and has placed over 250 nurses across the UK. Its digital platform enables the healthcare sector to digitally screen and interview candidates; those hired receive English language coaching and qualifications and are supported to organise their move to the UK.
Sarah approached PNE for help to develop her business and joined our Get Growing programme, which offered a bespoke package of one-to-one advice, access to experts and networking events to help businesses achieve their growth plans.
"The one-to-one advice has been invaluable, and provided me with a much-needed sounding board for my ideas, as well as helping me to set the right direction for my business.
"PNE enabled me to explore different finance options for the development of my business, and they were brilliant at connecting me with the right people and resources at the right time."
Sarah also accessed PNE's Sustainable Start Up Award grant funding, enabling her to join a government framework that drove significant sales for her business.
"The grant enabled us to secure the requisite IT accreditation to ensure we protect sensitive data, which has been crucial in enabling us to become part of the NHS' preferred supplier list. This in turn allows our recruitment model to deliver a more sustainable solution to nurse recruitment within the NHS."
As her business started to gain momentum, she put herself forward for the If We Can You Can Awards, which PNE partner with, winning runner up in the Social Impact category.
"It was a fantastic experience getting involved in the If We Can You Can Competition. It was great to build my network, and have the opportunity to gain valuable exposure and visibility for my business. The feedback from the judges was very useful, and it was great to talk with other entrepreneurs and to access their expertise."
Sarah reflects on her support from PNE as central to her success today. "I feel really lucky to have had the benefit of PNE's resources and support as I built my business. I think it's been a key factor in our success."